Creating an Inviting Entryway with Stair Runners
11 August 2023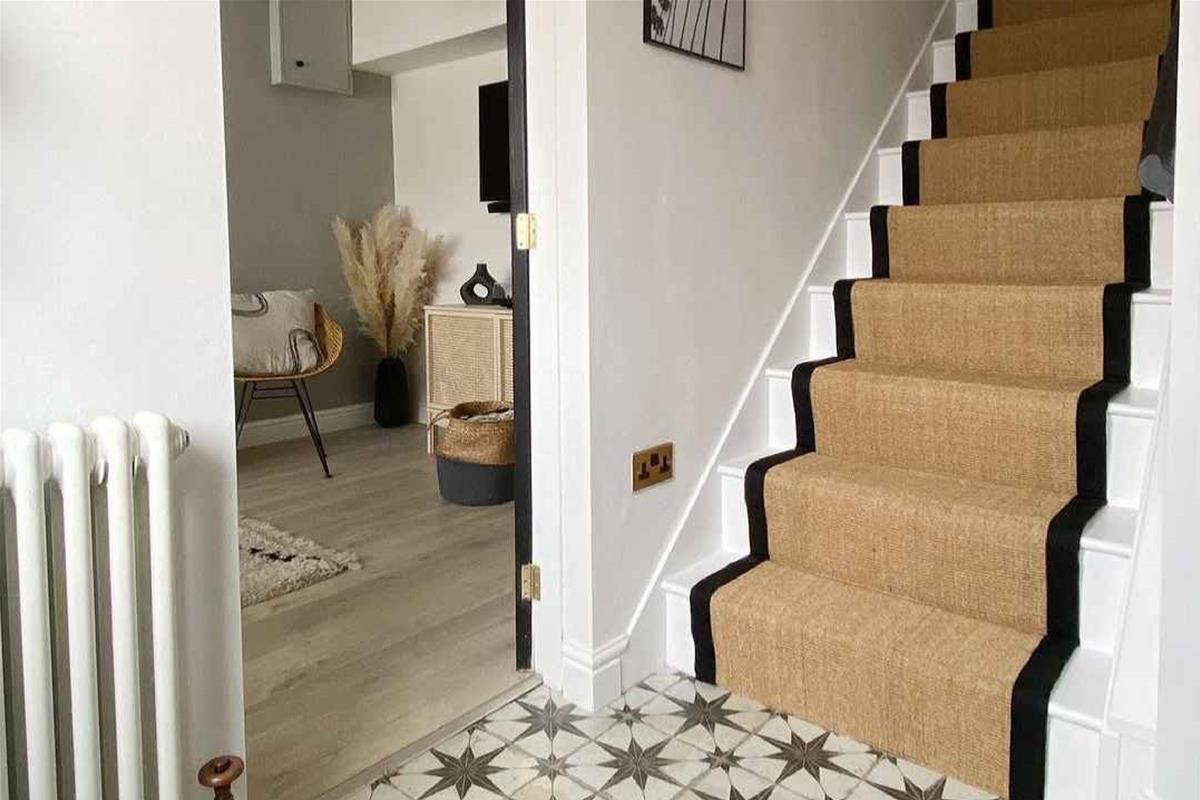 Creating an inviting entryway with stair runners is a great way to enhance the aesthetic appeal and functionality of your home.
Stair runners not only add a touch of elegance but also provide safety by preventing slips and reducing noise.
Here's a step-by-step guide to help you create an inviting entryway with stair runners-
Measure and Plan - Start by measuring the dimensions of your stairs. Determine the length and width of each step, as well as the total length of the staircase. This will help you choose the right size of stair runners.
https://stairrunnersdirect.com/blog/How-to-measure-a-straight-flight-of-stairs
Choose the Right Runner - Select a stair runner that complements your home's decor and style. There are various materials, patterns, and colours available, so choose one that matches your interior design. Wool, sisal and synthetic blends are popular materials for stair runners. See some examples below
Dark Grey Briar stair runner https://stairrunnersdirect.com/stair-runners/herringbone/faux/Darkgreybriar
Wimbledon Wool stair runner https://stairrunnersdirect.com/stair-runners/plain/wool/wimbledon
Natural Flat weave sisal stair runner https://stairrunnersdirect.com/stair-runners/natural-flooring-~-sisal/other/natflat
Prepare the Stairs - Before installing the stair runner, make sure the stairs are clean and free of debris. Sand down any rough spots and repair any loose or damaged steps.
Install Underlay - install underlay underneath the stair runner. This adds extra comfort to your steps and helps prolong the life of the runner. Use double-sided tape or adhesive to secure the carpet pad in place.
https://stairrunnersdirect.com/accessories/Underlay
Attach the Runner - You have a few options for attaching the runner to the stairs. These include:
Staples or Nails: Use a staple gun or nails to attach the runner to the riser (vertical part) of each step. Make sure the staples or nails are evenly spaced and secure.

Adhesive Tape: Double-sided carpet tape can be used to secure the runner along the length of each step. This is a good option for keeping the runner in place without damaging the stairs.

Gripper rods: are often used for wall-to-wall carpeting, but they can also be used for stair runners. They have small metal spikes that grip the carpet and hold it in place.
Proper Placement: Ensure that the stair runner is centered on each step and aligned with the edges. The runner should cover the tread (horizontal part) of the step and a portion of the riser.
Finishing Touches - Consider adding stair rods for an extra decorative touch; these can be placed across the width of the runner.
Maintenance - Regularly vacuum the stair runner to keep it clean and free of dirt and debris. If spills occur, clean them up promptly according to the manufacturer's recommendations for the specific material.
By following these steps, you can create an inviting entryway with stair runners that not only enhance the beauty of your home but also make your stairs safer and more comfortable to use.